The 4 best fishing sonar units in the market
There are so many fishing sonar brands, models, and types, it can be hard to know where to start. Picking out the best fishing sonar for you or a friend can be quite complicated and very time consuming. Hopefully this article can reduce your time and help you figure out which is the best fishing sonar for your needs. Fist of all, I am by no means a pro in the industry. However, I love to fish and do a ton of research to better understand the latest technology, tactics, and tackle in the sport. This post (and site) is to give everyone the benefit of all the research that I do.
Why use a Fishing Sonar?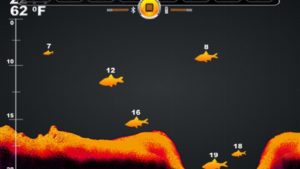 The best fishing sonar units can be a huge help with detecting fish underwater. The majority of these units use sound to reflect off of objects (like a bat) underwater. All of these reflections are then displayed on a screen to help you locate the fish. Most fish sonars will also tell you the depth and temperature of the water. Furthermore, they can also be used to detect underwater debris and obstacles.
How to read a Fishing Sonar?
This video does a very good job of explaining the basics of how to read a fishing sonar. All of the best fishing sonar units will have a very similar display.
The 4 best fishing sonar units.
Features
COMPARE Sonar FEATURES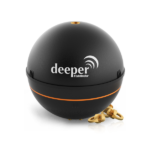 Dueal Frequency
90 kHz/ 290 kHz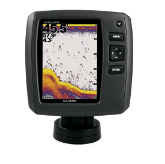 Dual Frequency
77kHz / 200 kHz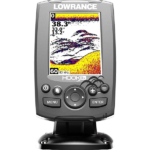 Dual Frequency
83kHz / 200 kHz
Deeper Smart Sonar Pro+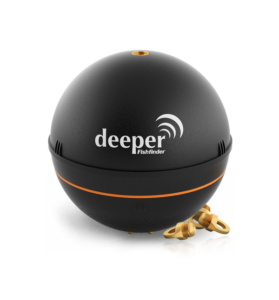 The Deeper Smart Sonar Pro+ is probably the hottest and newest entry into the fishing sonar world. This is also the only product in our best fishing sonar list to be castable. That's right, this sonar can be cast out into the water and will float. It will then transmit the data back to an app on your phone for viewing. This makes it an ideal sonar for not only use on a boat, but also ice fishing as well as fishing from the shore. It's versatility is probably the main reason why it is so popular. This unit also has the ability to be mounted, via a bracket, to a boat. So, you do not always have to have it cast in the water.
Deeper Smart Sonar is compatible with iOS 8.0 and higher as well as android 4.0 and higher. It can be charged via micro USB and will last for 6 hours of continuous use. Finally, this Pro+ version has one extra trick up its sleeve. Bathymetric mapping. As you pull or move the sonar across the water you can create a very detailed map of the bottom of the lake, pond, etc.
Garmin Echo 551dv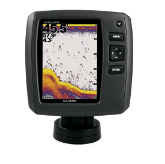 The Garmin Echo is the highest priced device on our list of best fishing sonar units. However, it is also a premier sonar with many advanced features. If you are going to be fishing in deep waters, this is the sonar you will want. It has a high 500-watt output power that allows it to show a depth up to 2,300 feet. It not only has the traditional dual beam sonar, it also comes with DownVu. DownVu provides near photo like images of fish and structures below.
The color display has a 480×640 resolution. You can also leverage its split screen mode to view the different sonars at the same time. This gives you amazing underwater detail. Overall this fishing sonar has all the features you need and no drawbacks.
Garmin Striker 4

Compared the the Garmin Echo, this is a much more basic unit. It is also a much lower price than the Echo. However, this is the most affordable unit you will find with CHIRP sonar. CHIRP creates clearer images with more defined targets. This also means that were some units would show multiple small fishing swimming closely together as one, you would see them separate. The Garmin Striker 4 also has GPS that will give you coordinates of your current location as well as show your speed. This sonar is a great choice for small boats or kayaks. Furthermore, it provides an affordable entry sonar as long as you do not need advance navigation options.
Lowrance Hook-3x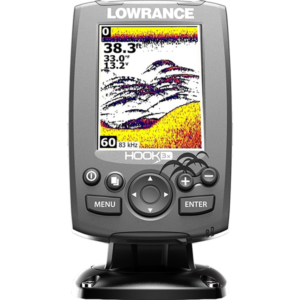 The Lowrance Hook-3x is the lowest priced amongst all of our best fishing sonar units. It is a great value for the money. This sonar is dual frequency, which will allow you to see both detail and a wide view of what is under you. This unit has a 3 inch color screen and is very easy to use. Overall its biggest benefits are its compact size and low price point.
Finlly, keep an eye on our Fishing Gear page for the latest news and update on the best fishing sonar units and all other fishing gear.