This is the best reel for bottom fishing
Bottom fishing, also known as legering in the UK, is fishing the bottom of a body of water. Pretty straight forward? Not so fast… Lets dig into a little more details about what bottom fishing entails and what is the best reel for bottom fishing.
This technique is most commonly used to catch fish that are found near the sea floor. On the surface this this sounds like a very easy fishing method. However, it can require some complex drifting and anchoring tactics. Many large predatory fish like the Halibut, Red Snapper, and Grouper are found by the reefs and wrecks at the bottom of the ocean. So, this method is your best chance of reeling one of them in.
Bottom fishing is not specific to a boat or the ocean. The main goal for this technique is to get your bait to the bottom of whatever water you are fishing. Then present it in a manner that is tempting enough to the fish that it lures them onto the hook. When bottom fishing you will lead the line with a heavy sinker that is then followed by the bait and hook. This weight will cause the fish to feel resistance when they first strike. This resistance will trigger them to pull away which will cause them to get hooked. The heavy sinker will also allow you to cast the bait out further and will ensure it sinks deep to the bottom. If you are fishing in areas of strong currents or high waved, the sinker will also keep your bait in place on the bottom.
Here are a few of the most common rig setups used for bottom fishing thanks to MiamiFishing.com.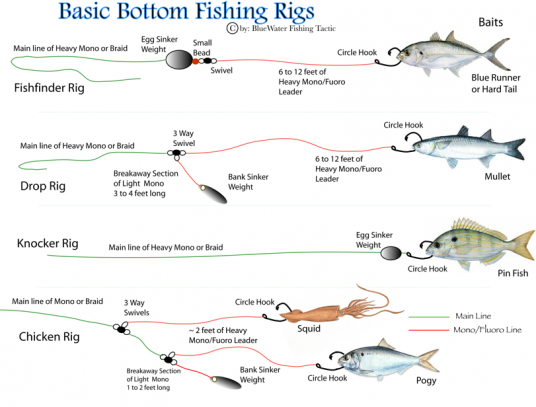 Now that we have got an understanding of what bottom fishing is and how the rigs can be set up. Lets look for the best reel for bottom fishing.
Best reel for bottom fishing in the ocean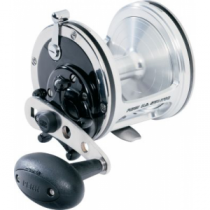 The Penn Baja Special has been the most recommended reel for bottom fishing for quite a while. It appears that Penn has discontinued this Baja Special name. However, they now have the US Senator. The US113N (US Senator) is identical to the Baja Special except for color and the name on the side. This reel is made in the USA with a one piece machined aluminum frame. The stainless steel gearing, shielded stainless steel bearings, and heavy duty carbon fiber drag system make this the best reel for bottom fishing in the ocean. This reel is know for its ease of casting, smooth drags, and extreme power. Check out the video review that J&H Tackle provided below.
Best reel for bottom fishing in freshwater
For freshwater bottom fishing you do not need any special type of reel. You can use your favorite baitcaster or spinning reel. Take a look at our Reels or our best fishing reel under $100 post to help you decide