Walleye
The "walleye" name comes from the fact that the fish's eyes point outward, as if looking at the walls. Walleyes are mostly olive and gold in color. The back side of a walleye is olive, grading into a golden hue on the sides. The olive/gold pattern is broken up by five darker stripes that extend to the upper sides. The color shades to white on the belly. The mouth of a walleye is large and has many sharp teeth.
Walleyes typically grow to about 31 in in length and up to 20 lbs in weight. The maximum recorded size for the fish is 42 in in length and 29 lbs in weight. Southern populations often grow faster and larger. In general, females grow larger than males. Walleyes may live for decades. Hence, the maximum recorded age is 29 years. In heavily fished populations, however, few walleye older than five or six years of age are encountered. In North America, where they are highly prized, their typical size when caught is on the order of 12 to 20 inches, substantially below their potential size.
Because walleyes are popular with anglers, fishing for walleyes is regulated by most natural resource agencies. Management may include the use of quotas and length limits to ensure that populations are not over-exploited. Check the table below for a few of the most popular states for walleye fishing and their limits. Please leave a comment if you would like me to add additional states.
State

Minimum Size (inches)

Daily Possession Limit

Season

Michigan

15"

Typically 5.

The daily possession limit for walleye will be set on May 1 each year. Check the Michigan DNR website for updates

Great Lakes is year round. Other locations varies.

Check Michigan DNR for more details.

Minnesota

15"

6

Mid May to beginning of March

New York

15"

5

1st Sat in May through March 15th

Ohio

Typically 15".

But varies in the Ohio River. Check Ohio DNR for more details.

Typically 6.

Check WildOhio.gov for updated limits.

Year Round

Washington

16"

5

Check the Washington WDFW site.

Wisconsin

Varies based on location.

Check Wisconsin DNR for more details.

5

Varies based on location.

Check Wisconsin DNR seasons for more details.
Best way to catch a walleye
Walleyes have excellent visual acuity under low illumination levels. Therefore, they tend to feed more extensively at dawn and dusk and on cloudy or overcast days and under choppy conditions when light penetration into the water is disrupted. Although anglers interpret this as light avoidance, it is merely an expression of the walleye's competitive advantage over its prey under those conditions. Similarly, in darkly stained or turbid waters, walleye tend to feed throughout the day. In the spring and fall walleye are located near the shallower areas due to the spawning grounds; and they are most often located in shallower areas during higher winds due to the murkier, higher oxygenated water at around six feet deep. On calm spring days the walleye are more often located at the deep side of the shoreline drop-off and around shore slopes around or deeper than ten feet.
"Walleye chop" is a term used by walleye anglers for rough water typically with winds of 6 to 16 mph. It is one of the indicators for good walleye fishing due to the walleye's increased feeding activity during such conditions. In addition to fishing the "Walleye chop", night fishing with live bait can be very effective.
Walleyes are known to exhibit finicky feeding habits, but there are times when they hit artificial lures with reckless abandon, even large sized lures. Most often they have to be tempted and teased using live bait presentations which account for the majority of walleyes caught.
Walleyes are a schooling fish, find one you usually find others. Most often they relate to structural elements like rock humps, inside turns, breakline transitions, and man made cribs. Other times on large bodies of water (Great Lakes) they scatter or suspend over a feature less bottom following schools of baitfish. This explains why boat control in both applications is such an important part of walleye fishing, whether it be while working a jig and minnow at a consistent depth or trolling with crank baits/spinner rigs. Check out all of the specific information below, then hop over to our review of the 7 best fishing lures for walleye.
Live Bait:
Live bait is a popular option no matter what else you are using. You will want to use live bait with a slip sinker or a slip bobber rig, pulled behind a spinner, tipped on a jig, or simply fished with a plain hook and split shot. There are three types of live bait used for walleye: Minnows, Leechs, and Night Crawlers. Here are the types you will want to use based on the season:
Spring: Minnows, Small Red Tail Chubs and Fatheads
Summer: Leeches and Night Crawlers
Fall: Minnows Large Red Tail Chubs and Small Suckers
Winter: Minnows: Large Shiners, Red Tail Chubs and Small Suckers
Fishing with Jigs: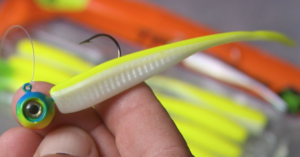 Jigs are one of the most common lures used for walleye. They can help the angler to reach the depths where walleyes inhabit. You will typically want to add some type of live bait to your jig for added attraction and scent.
There are multiple ways to work a jig. You will want to alter your approach based on the season.
When the water is cold, use a very slow retrieval with short gentle taps on the retrieve.
For warmer water, walleyes will typically be more aggressive, try an intense jigging retrieve.
In both cases, you need to cast it out, let it sink to the bottom, then retrieve with a series of twitches and pauses based on the suggestions above. After each twitch maintain a taut line while the jig sinks back to the bottom. Walleyes usually hit while the jig is sinking. If your line is not taut you won't feel a strike, sometimes you will feel a distinctive tap, other times you will feel light pressure as if the jig is hung up.
Slip Sinker Rigs: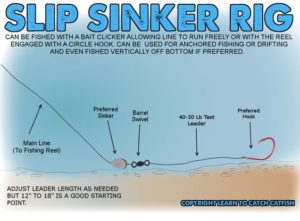 Walleye are known for picking up live bait and dropping it as soon as they feel any type of resistance. A slip-sinker rig will eliminate the resistance, as a walleye strikes the bait.
The slip sinker rig is made up of three components
a hook
sliding weight and
a stop
You can find slip-sinker rigs pre-tied at most bait and tackle shops or you can make your own. Using the slip sinker rig is quite easy, after a cast allow the rig to sink. When you pull the rig the stop catches the sinker as it moves along the bottom allowing the bait to look natural for an easy meal.
The most critical component to the rig is the sinker, it must be heavy enough to get the rig to the bottom. A general rule of thumb is 1/8 oz for every 10 feet of depth. Any type of sinker will work. However, most anglers use an egg or walking type of sinker. Hooks should be as small as possible, size 6-8 octopus will maintain a more natural look. The stops can be a barrel swivel, to make it adjustable a bobber stop or a very small split shot can be used. A leader lengths of 18 to 36 inches works the best.
Slip Bobber Rigs:
When walleyes stay at a certain depth on some type of structure (rock pile, submerged hump, etc) the slip bobber rig is a highly effective approach. This method will present the live bait at a pre set depth. Ideally, putting the bait right in their face. You can make slip bobber rigs rather easy or buy them at your local bait and tackle shop. To make a slip bobber rig simply start with your stop attached to the fishing line, you can use a piece of string or a rubber band knotted on the line thread on a small bead then the bobber. Add a small spilt shot below the bobber for balance then tie on a hook size 4-6-8 and bait with a minnow leech or night crawler. The picture to the left shows a general idea of how to put one together.
Spinners: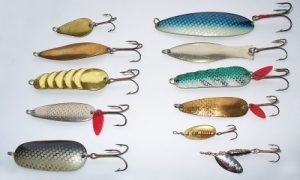 Fishing with spinner rigs for walleyes is one of the oldest techniques dating back to 1893 with the first Prescott Spinners to the newest minnow and crawler harness made today. Weight will need to be added to ensure that the spinner rig gets to the bottom. Bottom bouncers or three way rigs are the most popular because they will keep the spinner in contact with the bottom. However, you can add a rubber core or split shot a few feet ahead of the spinner rig for drifting.
The weight forward spinner is a very popular lure used on Lake Erie. As we mentioned earlier, you should always tip the spinner with a piece of night crawler leaving an inch or so trailing behind the single hook. Fishing with weight forward spinners, you simply cast it out and count down to different depths to locate walleyes, then maintain the retrieve fast enough to keep the forward blade rotating.
Trolling: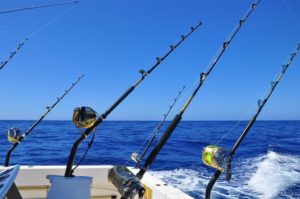 One of the most effective ways for locating walleyes is trolling, especially in areas that you are not familiar with. Trolling enables you to cover a lot of water in minimal time. In the past trolling for walleye was simply done by flat lining, a technique by casting a crank bait or spinner rig off the back the moving boat. Today trolling tools offer a variety of options in presenting the baits.