These are absolutely the 7 best fishing lures for crappie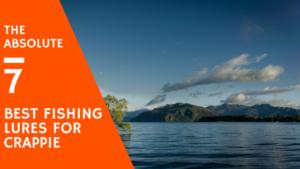 Crappie are one of our favorite fish to target. In our opinion they are the best tasting fresh water fish around. In order to help you catch these tasty fish we are going to show you the best fishing lures for crappie. However, first we are going to cover just a little bit about crappie. You can surely find a ton of great information on various web sites. But it is good to have a base to help understand why these lures are perfect for crappie.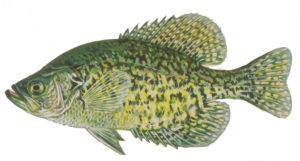 Crappie have a very diverse diet, they will feed on aquatic insects, minnows, and fish fingerlings of other species. Because of this fact, they can also be caught in many ways. Small jigs, minnows, spinners, artificial lures, and using bobbers are all very effective ways to catch this fish. Crappie are a schooling fish that prefer underwater structures. During the day you will typically find them in deeper water near fallen trees, weeds, and other submerged structures. However, near dawn or dusk you will find them closer to shore as they move there to feed.
Because you can use a variety of tackle to catch crappie. We are going to highlight some lures for each category.
The 7 best fishing lures for crappie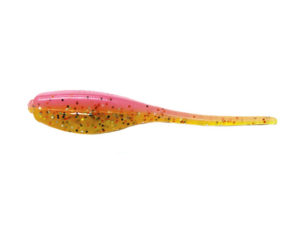 The Bobby Garland Baby Shad is popular among tournament-proven crappie anglers. These lures are soft plastic, durable, and feature a plump profile body that tapers to a flapping, spear-shaped tail that creates loads of enticing, dancing action.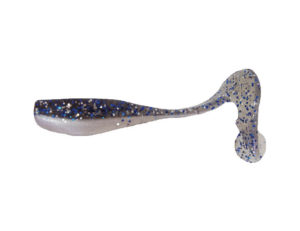 The Bobby Garland Stoll'r has the same great quality as the baby shad. This one adds a twisted tail that gives it a lot of action. The Stoll'r was specifically designed for slow trolling, or "strolling" for crappie. The Stroll'r produces an unbelievable tail action and vibration at any speed, whether it is cast or trolled.
The Stike King Mini is the first spinner on our list. It has a "safety pin" wire so your knot or line clip won't slip out of position. This lure also has a Colorado Diamond blade for flash and added pull (versus a willow blade) which helps your line lay better. Finally, it features a Diamond Dust Silicone Skirt, great Paint Job, and a good hook. For all of these reasons, it has made our list of best fishing lures for crappie.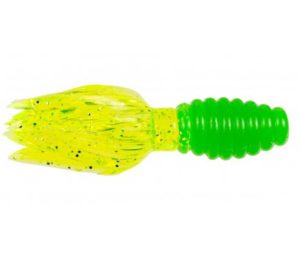 This is another Strike King lure. However, this is a high quality plastic tube lure.. Over the past 25 years Wally Marshall has been honing his skill and knowledge to bring you the best crappie lures money can buy. Mr. Crappie soft plastic lures get the best results and are designed to trigger big slab crappie into a feeding frenzy.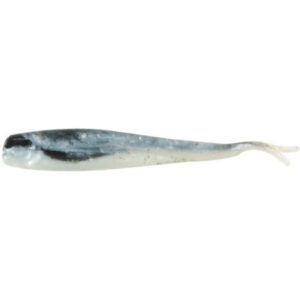 The Berkley Gulp. Alive. Minnow provides a natural presentation providing realistic action, taste, and scent. These are as close are you are going to get to the real thing. They have a life like detail and profile at the same time it is more durable than live bait. Quivering action along the split tail triggers the fish to feed every time. After you use these lures, you need to put them back into the "Gulp" rechargeable attractant that they came in. The life like qualities of this lure made it an easy add to our best fishing lures for crappie!
We featured the Mepps Spinners in our best fishing lures for walleye post. Their Panfish kit is a great addition for any crappie fisherman. As with any Mepps product, you can expect the highest of quality. It is designed for the pan fish angler who prefers fishing spinners and spoons with a plain treble hook. These lures will allow the pan fish angler to fish almost any water under most fishing conditions.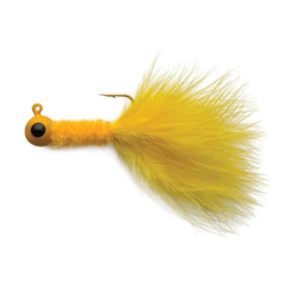 Finally, the Eagle Claw Crappie Jig is a consistently popular jig. One angler put it best when they said: " If you had nothing else and you were on a deserted island, this is the lure you want". It is very simple and it just works. There is no way we would create a best fishing lures for crappie list and not have this one.
For most of these lures you can use any jig head you prefer. We like the Angler's World of Jigs pack because it gives you a variety of colors and sizes. If you want to add some spinning action, we highly recommend the road runner head! If you do decide to use a bobber with any of these lures, pay close attention. Crappies often feed up. This means they may hit your lure and continue to move towards the surface. This can make it very difficult to detect. You can use a Thill Wobble Bobber, these are designed for a specific weight jig. With the specified jig, these bobbers are in perfect balance and makes it much easier to detect upward strikes.
Don't forget to regularly check our Bait / Lures page for the most recent suggestions.