These are the 4 best fishing pliers ever made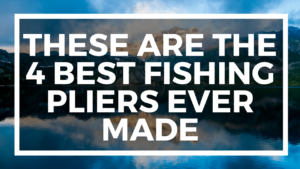 Today, we will talk about the benefits of having a good pair of fishing pliers and about the criteria we should take into consideration before choosing the best one. Furthermore, we will provide some useful information of the 4 best fishing pliers on the market.
Many times, we anglers, think about which fishing gear we should put into our fishing tackle box. However, many of us forget about our fishing pliers, until we are really in need of them. Imagine that you are on a fishing trip and you have to cut the line or remove the hook from a fish or even split a ring to change the fishing lure. What is the best solution for that problem? Fishing pliers of course. They are definitely useful for all types of fishing and provide an extra level of convenience in that time of need.
Stay with me for a minute while I illustrate my point with an example. I was on a bass fishing trip and we had gone many hours with not even one bite. Suddenly, I saw my line jumping and moving off to the side. I had not only had our fist bite but had a decent sized one on the line. After I finally managed to land it, the fish had swallowed the hook deep and I could not see it at all. So, I go scrambling through my tackle box looking for something to help with this situation. You know, something like, well fishing pliers… However, I had no luck. After spending 30 minutes messing around trying to get the hook out, I finally succeeded. This simple example can really add up and impact you total fishing time on a trip.
Ok, so let's take a look at some features / functions that we should look for in the best fishing pliers.
Material
Some of the most popular materials that fishing pliers are made of are anodized aluminium , stainless steel, high quality titanium and nickel. Therefore, the best fishing pliers should incorporate stainless steel jaws, so that they do not rust. The materials should provide both strength and durability in a plier's body.
Grip
Another thing to keep in mind is that the best fishing pliers should have anti-skid, high quality rubber handles in order to avoid them slipping out of our hands when they are wet.
Cutter
Most of the best fishing pliers offer many other options, such as a cutter. That little tool could help every angler to cut monofilament, wire steel, braided or fluorocarbon line or even the bait.
Split ring
The inclusion of a small hook at the top for opening the split ring of the fishing lures helps us to change the lure easily and quickly. This lure tuning tool is highly recommended for those who are fishing with artificial bait, such as the ones we listed in our 7 best fishing lures for crappie article.
Long Nose
A set of ''long Nose'' fishing pliers is very useful when it comes to deep hook removals.
Spring
A bonus feature is the spring that most of the best fishing pliers have. This spring will help reopen the mouth of the pliers. As a result, most anglers will appreciate the ability to more quickly operate the pliers.
Weight
Most people will appreciate light weight pliers but it depends on the material. The ideal weight is around 7 to 12 ounces. However, most fishing pliers on the market around that weight.
Lanyard attachment
A lanyard attachment is of vital importance to help locating the fishing pliers quickly. Hence, you could attach them to your belt and be sure you will never lose them. Also, an added tip is to attach a floating key chain, so you do not loose them overboard.
Finally, what you most likely came here for. I will show you, according to the features above and the customer reviews, the four best fishing pliers ever made.
South bend bent nose pliers
Aluminum and Stainless alloy
South Bend Bent Nose Pliers
First off, these 'low-cost' fishing pliers are highly recommended for those who are seeking something simple and easy to operate. Therefore, if you are not interested in many functions and you want a good set of fishing pliers these are perfect for you. They are crafted with high carbon steel, have a long nose to remove deep swallowed hooks and an excellent wire cutter. Their size is a little big but thanks to the ergonomic handles it provides a stable grip. The combination of the price and the ergonomic design is a great option for the frugal angler. Be sure to check Amazon for the latest prices and reviews!
Booms Fishing F3
Booms Fishing F3 pliers, made with nickel alloy stainless, offer many useful features that most other expensive pliers would be jealous of. Also, the nickel alloy material is extremely durable and is not only very hard. Consequently, it has better corrosion resistance than most of the best fishing pliers. The jaws open to a small width so that we can easily remove a hook from any fish that you catch. Furthermore, the cutter is extremely sharp and will cut any line out there. A Lanyard and Belt Holster are also included to keep your pliers safe and dry. Be sure to check Amazon for the latest prices and reviews!

Zitrades Aluminium
These Fishing Pliers might be the most innovative, long lasting and tough pliers that are around. Once you try this tool you will understand why. The body is machined from Special Deluxe Aluminium with a high density handle. It is able to cut even steel wire and braided line, which are very strong. While they are entering a slightly higher price point, they are still a very good value. Finally, The little hook on the top of the jaw will be extremely helpful to split the ring of a fishing lure with ease. Their design provides a feeling of smoothness and comfort. It also comes in many beautiful colors and with a pouch and a lanyard in order to keep them secure from nature's elements. Be sure to check Amazon for the latest prices and reviews!
Readymax StreamWorks Nighthawk
Compared to the other pliers, these Readymax Nighthawk pliers are the most innovative. In my mind, if you fish a lot or are on a boat a lot, you will want these pliers. Its most innovative feature is the LED light that shines from between the jaws. This makes it extremely easy to see what you are trying to grip. The frame is made with an aluminum and stainless alloy. It has a replaceable tungsten carbon cutter that is capable of cutting braid, hardened steel, and monofilament with ease. Moreover, it is waterproof, oil-proof, and chemical proof. Overall, I am sure that you will fall in love with these fishing pliers. The combination of innovation, quality, design and durability bring it to the top of the list of the best fishing pliers. Be sure to check Amazon for the latest prices and reviews!
Conclusion
The fishing world has many secrets and today we covered one of them. Unfortunately, most anglers forget about this necessary tool all the time. However, it is is extremely important to have a good pair of fishing pliers. It is a ''multi-tool'' that should not be absent from our fishing tackle box. Finally, I hope that I could help you to choose one of the best fishing pliers, without spending a fortune. Don't forget to check our Fishing Gear page often for the latest innovations and reviews.